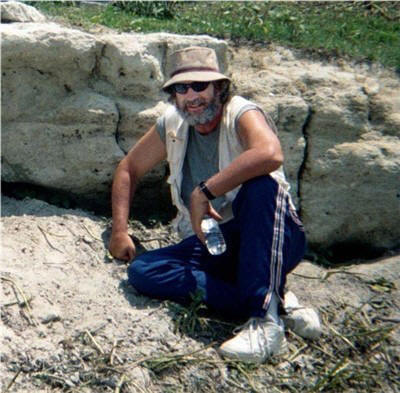 CHRIS HARDAKER
Archaeologist
THE HEXAGON, THE SOLSTICE AND THE KIVA
I am happy to introduce to you Mr. Chris Hardaker. He is a very interesting man with a real genuine sense of just "being" and has discovered, published and produced very intriguing studies circumscribing past origins of man, ancient technology, geometry and other fascinating studies. Chris is seen in this photo at Hueyatlaco in 2001, a 200,000 year old archaeology site outside Puebla, Mexico. Colette Dowell
Chris Hardaker was born in Brooklyn, New York to a Brooklyn mother and a WW2 RAF pilot who was born in Mysore, India. When he was nine, his father took the family on a trip to his home in India, and then to Southeast Asia where we visited Bangkok and the Cambodian ruins of Ankor Wat, and ended up in Australia to visit his two brothers. Hardaker got an early view of the world, and supplemented by the constant brainwashing that came from a house full of National Geographics, it was natural that he was attracted to anthropology and archaeology. He has been a New World dirt archaeologist for over thirty years. With a BA from San Diego State University (1976) and a MA from the University of Arizona (1989), he is an explorer of principles that will further archaeological studies and interpretations. His involvement with Valsequillo arose from his investigations of fracture mechanics and stone tool making which cultivated a strong conviction in pre-Clovis horizons in the New World. [[Refs./website]] For the last 15 years he has also explored a fascination with Classical Geometry and its occurrence the world over in the form of symbols and architecture, and focused this newfound tool on the Native Americans of the Southwest and the Chaco Canyon ruins. He is also working to introduce this kind of math to K-12 curriculums. [[Refs. NAG Website]]
Please review Chris Hardaker's paper: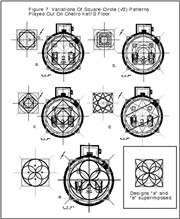 THE HEXAGON, THE SOLSTICE AND THE KIVA

Please visit Chris Hardaker's Websites
To quote Chris, "When you do the art, math happens."

NATIVE AMERICAN GEOMETRY
http://earthmeasure.com

BIPOLAR REDUCTION: Variability or Chaos
http://earthmeasure.com/bipolar/

PUBLICATIONS AND PRESENTATIONS

Current ms: 200,000 BC: The New American Archaeology and Why It Was Covered Up.

The hexagon, the solstice and the kiva [Special issue of Symmetry: Culture and Science]. Symmetry in Ethnomathematics, 12(1-2), 167-183. Budapest, Hungary: International Symmetry Foundation. 2001 (actually published in 2003)

Great Kiva Design in Chaco Canyon: An Archaeology of Geometry
2002 Bridges Conference Proceedings (Towson University, Maryland; director: Dr. Reza Sarhangi.
(Presentation of paper at 2001 Bridges Conference, July 26-29, 2001, Southwest College, Kansas.)

"Towards Resolving Clovis Origins," in Mammoth Trumpet, 16 (3): 14-16, 2001


Native American Geometry for K-12 Educators. Four workshops for Arizona Historical Society's Archaeology Week activities, March 2001.

"Early Man in the New World and Cultural Resource Management," in Society of American Archaeology Bulletin, July 2000.

Chaco Canyon Kiva Geometry. Presented at American Anthropological Association national conference, Philadelphia, PA. December 1998.

"Distance Learning and the Retainment of Native American College Students," to be published in Pathways of Learning.

Hogan Geometry for Teachers 3-part Workshop presentation, 7th Annual Symposium on Math, Science, Language, Culture and Technology. Sponsored by Tuba City Unified School District #15, May 1998.
Native American Geometry for Teachers. Presented at Navajo Studies Conference, October 1998
The Seal and the City. Presented at the Society for American Archaeology meetings, Las Vegas 1990.
The Seal and the City © 1990 ms.
Geometry By The Dots © 1994 ms
The Tucson Artifacts: Rebuttal to Skupin. Epigraphic Society Occasional Papers, 1990
The Little Lake Knap-In. Flintknapper's Exchange 1981
Towards a Lithics Taxonomy. Flintknapper's Exchange 1980
The dynamics of bipolar flaking. Flintknapper's Exchange, 1979

TELEVISED LECTURES (available on request)

The Seal & the City: A geometrical interpretation of the 1792 city design for Washington, D.C. (Produced by Tucson Community Cable Corporation, March 1994.)
Classical Geometry for Children (Produced by Tucson Community Cable Corporation, June 1996.)
EarthMeasure.Com
Chris Hardaker
2013 N. Forgeus Ave.
Tucson, AZ 85716
<![if !vml]>

<![endif]>

An International Networking Educational Institute
Intellectual, Scientific and Philosophical Studies
Copyright © 1995, 2005, 2007

The Official Website of
Dr. Robert M. Schoch, Ph.D.
Copyright © 2003, 2005, 2007
Dr. Robert M. Schoch & Dr. Colette M. Dowell
Angela Praxter - Professional Assistant