Appreciation for Dr. Colette M. Dowell
by Robert M. Schoch © 2006
Hello Everyone,
I would like to take a moment to express my thanks and gratitude to Dr. Colette M. Dowell for all she does for not just me, but for everyone. I have known Colette for decades, and I honestly have never come across a more caring and empathetic person. She has freely opened herself and given and given and given to so many people, be they scientists, alternative researchers, seekers, or just "common folks." And she has not only promoted and helped other researchers, but she has also made innumerable contributions in her own right; you will find her work cited in many books, papers, and documentaries. Colette has an incredibly sharp mind, a wonderful sense of being, and an approach to anomalous phenomena and ancient mysteries that is simultaneously both broadminded and refreshingly skeptical. Sometimes I fear that people do not give her enough credit for her work, as she has never been one to seek the spotlight. I must also mention that I am one of the direct recipients of her generosity as, since August 2005, she has been working on revamping my website. As I write this, I am visiting her briefly in North Carolina; she and I are collaborating on several projects, including complementary lectures that we were invited to deliver at a museum next month, a planned trip to Peru in March, and other projects (could there possibly be a Dowell book on the horizon?). Being around Colette, I am always prepared to experience the unexpected. On Monday we took a break from our work and drove into town to take care of some errands. As soon as we returned the phone rang. The local florist was on the other end asking if Dr. Dowell was in to receive a delivery. "Yes, bring it on by." Fifteen minutes later two vans pulled up and out came eighteen beautiful floral arrangements and a couple of gourmet baskets of goodies. The florist said it was her largest delivery ever to a single individual (barring the deceased). I had to capture the moment, so I asked Colette to pose with all the flowers before she spread them throughout the house. Take a look at the photo and enjoy.
Of course you are asking who ordered the flowers for Colette. She has been helping some documentary film producers with various projects, and they were so grateful that they just wanted to send a little token to show their appreciation. Only Colette!
Robert M. Schoch
Flowers for Dr. Dowell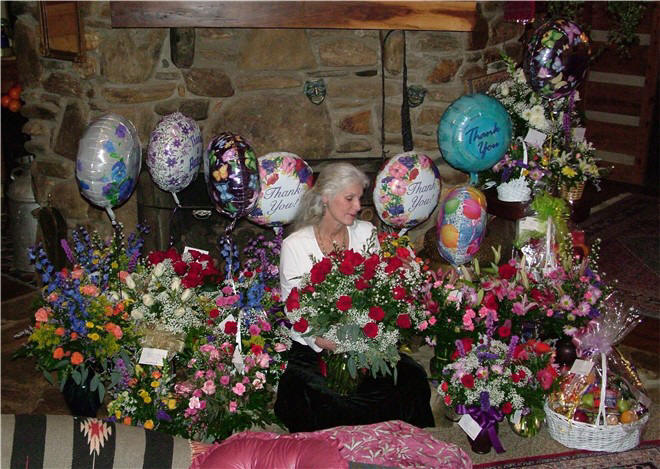 Hello, this is Colette.........
I took a picture of Robert looking so happy too when the flowers arrived.
It was a most amazing experience.
A few more days were to follow and even more roses and various gifts arrived.
I appreciate the acknowledgement very much.
It is a nice feeling to know that you are helping others and they
are grateful for your efforts.
Colette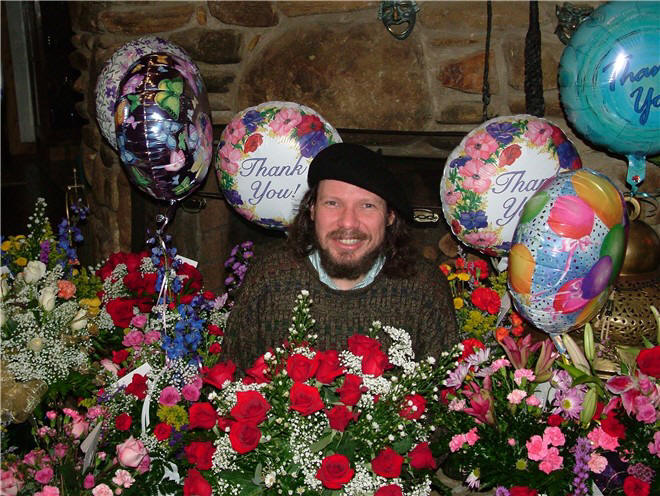 "FLOWERS" for Dr. Dowell
Robert is happy too!

CIRCULAR TIMES
<![if !vml]>

<![endif]>

An International Networking Educational Institute
Intellectual, Scientific and Philosophical Studies
Copyright © 1995, 2005, 2006
Dr. Colette M. Dowell & Dr. Robert M. Schoch
Angela Praxter - Professional Assistant