Egypt Khufu Cheops Pyramid Construction Jean-Pierre Houdin, a French Architect presents high tech modeling of his theory of construction of Khufu, Cheops, Kheops.

CIRCULAR TIMES
An International Networking Educational Institute
Intellectual, Scientific and Philosophical Studies
CIRCULAR TIMES HOMEPAGE CONTACT SITE NAVIGATION HIGHLIGHTED TABLE OF CONTENTS
Sabu Enter Here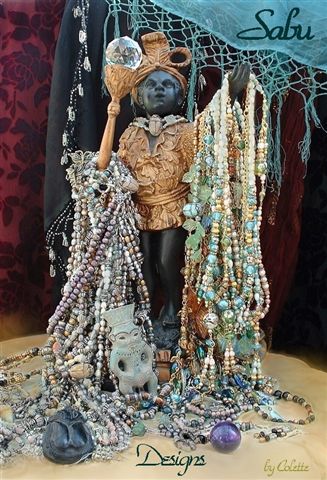 Archiving the Great Pyramid's Construction Theories (ramps or otherwise) - by Colette Dowell for Circular Times
(This site is formatted for 1024 browser IE - some images might look out of place on various monitors
Firefox and other browsers will view differently as well - and some graphics/videos may not work on all systems)
KHUFU - CHEOPS - CHEOPE - KHEOPS
GREAT PYRAMID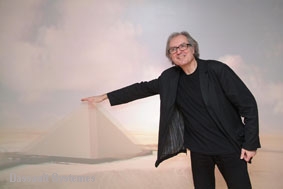 KHUFU'S INTERNAL RAMP THEORY
JEAN-PIERRE HOUDIN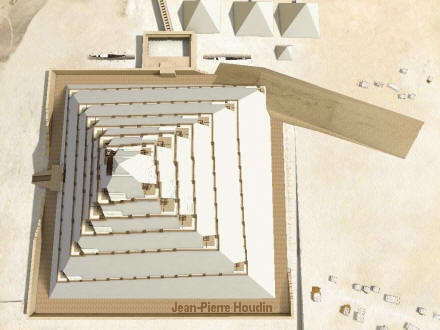 Copyright: DassaultSystèmes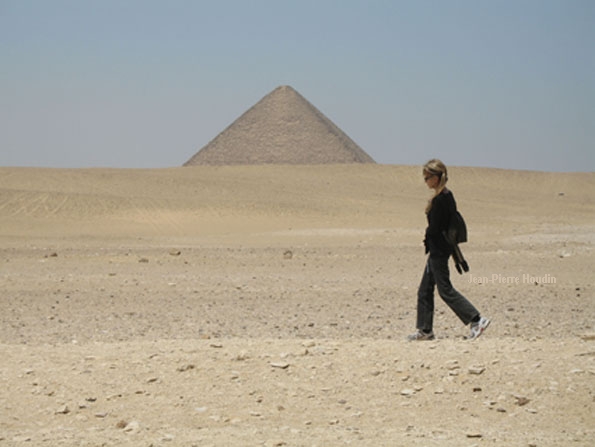 La Pyramide de Kheops
Publisher: Linteau - Paris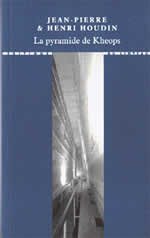 Over eight years have now passed since Jean-Pierre Houdin and his devoted wife 'Bulle Plexiglass' (Michelle) fused their life's equity into a passionate architectural affair with the Great Pyramid, located on the Giza Plateau in Egypt; "A ramp theory" - an internal one; enclosed; continually winding its way up to the apex of the Great Pyramid by means of turning 90 degrees corners; encasing workman hauling blocks of stones weighing tons; using rope, cranes, sleds, scaffolds and any other means by which a hefty stone could be maneuvered; builders hollaring and lots of sweat. The energy to create such an internal ramp can be measured and defined if calculated in detail; Jean-Pierre has detailed his architectural renderings and has come up with some staggering factors. A modern high- tech French architect who had no previous yearnings of the Great Pyramid's construction prior to his last decade of research has used his upscale mindset to configure how the Ancient Egyptian's might have constructed their most magnanimous feat of monumental structures. Jean-Pierre's ability to create colorful graphics tends to lead the reader to view his internal ramp construction theory as a method to get his views across as opposed to reading and reasoning his renderings, calculations and thoughtful suggestions of e.g., "intercom systems" which he claims were built deep within the Great Pyramid's Queen's Chamber to accommodate the builders and crews.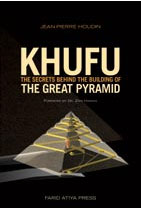 Jean-Pierre has published numerous books - his first being, 'La Pyramide de Kheops,' Publisher: Linteau - Parisone, which has sold out; his second one being 'KHUFU - The secrets behind the building of The Great Pyramid,' written in English and translated in various languages (as seen below) and thereafter more publications, power point presentations and documentaries have since been created and fashionably marketed. To the Houdins' credit they do have some support/backing for their research, as well as a following of fans. Jean-Pierre is competing with multiple other researchers' differential ramp theories on the Great Pyramid; his forte is his zealous optimism coupled with high tech graphics that trigger the human mind into a digital maze of layers of ancient stones. How though will Jean-Pierre be able to prove his internal ramp theory?
In recent communications with Jean-Pierre I have asked many questions (I have his book KHUFU which was gifted to me in 2006, while I was in Giza working on a documentary about Ancient Egypt) and with civility have chatted - discussing a few variables at hand; searching for and determining logic to his speculations and renderings. I find myself wondering about Dr. Hawass's stand on Jean-Pierre's work and the bureaucracy of all the red tape wrapping its way around the ancient monuments of Egypt. Jean-Pierre explains, "He and Dr. Zahi Hawass have been in a form of a 'chess game' for the past five years." Will Dr. Hawass allow Jean-Pierre to go on site to the Giza Plateau and continue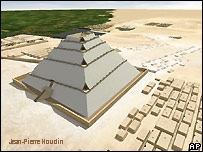 his evaluation of the Great Pyramid and his controversial internal ramp theory? Dr. Hawass boldly wrote the foreword for Jean-Pierre's second book 'KHUFU - The secrets behind the building of The Great Pyramid,' written in English, published in 2006, Farid Atiya Press, Cairo.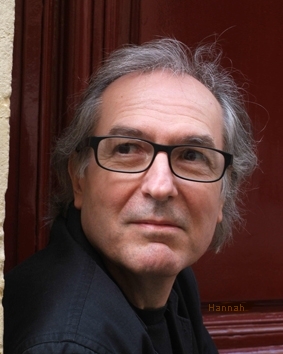 Partial quote from foreword by Dr. Hawass: "The evidence for this theory is circumstantial, and remains to be proven, but it is well worth our consideration. If it is correct, we will have gained a new understanding of the genius of the pyramid builders." Zahi Hawass Cairo, 2006
Jean-Pierre's profuse ambitions must be deeply seated in conflicting patience and prominent confidence as he wrote to me, "But like in any La Fontaine fable, the best part is always the...end... Technology is on my side..." In the end Jean-Pierre expresses some personal reflections of his life's passion and intellectual resolve; "I'm just proud because after so many years working on Khufu I start building up a very strong reputation of seriousness...and EXPERTISE... I've thousands of e-mail very supporting... I know I'm on the right track and one day will come, I'll find the internal ramp...for sure... May be... I've already what I'm officially looking for..." "Now...Will Dr Hawass allow me to officially check ?" JPH
Text written by Dr. Colette M. Dowell for Jean-Pierre Houdin and 'Bulle Plexiglass'
Chantier de la Grande Pyramide JPH
Click the link below - different options will prompt depending on your browser and computer settings. After the download, you may have to click the link again. Once the main page of the slide show comes up CLICK THE UPPER RIGHT HAND CORNER OF THE PAGE TO MOVE ON TO THE NEXT PAGE OF THE SLIDE SHOW - OR, JUST WAIT AND SEE IF IT MOVES ON TO THE NEXT SLIDE BY ITSELF. I HAVE CHECKED DIFFERENT METHODS AND IT DEPENDS ON YOUR SETTINGS. IT IS AN INNOVATIVE PRESENTATION AND VERY VISUAL - THERE IS SOME TEXT TO READ BOTH IN FRENCH AND ENGLISH.
UPDATED MICROSOFT POWER POINT PRESENTATION 26.5 MB - wait to load please
Chantier de la Grande Pyramide JPH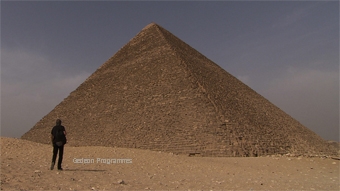 Click Pic to link to 26.5 MB Power Point Presentation as well - Please wait to load !
All drawings from the Chantier de la Grande Pyramide slideshow are copyright Jean-Pierre Houdin, Library of Congress Copyright Office Washington DC . Michelle Houdin makes videos under Bulle Plexiglass . Other photograph and graphic credits courtesy of:
Hannah, Jon Bodsworth, Bulle Plexiglass, Gedeon Programmes, Georges Mesmin, Craig B. Smith, Edgar Brothers......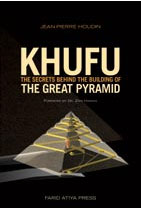 KHUFU Publisher: Farid Atiya Press - Cairo
Translated in many languages including: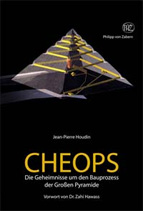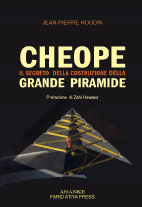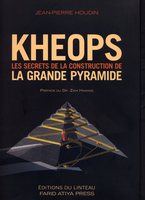 German CHEOPS Italian CHEOPE Grande Piramide French KHEOPS LA GRANDE PYRAMIDE
Publisher: Verlag Von Zabern - Mainz Publisher: Ananke - Torino Publisher: Linteau - Paris / Farid Atiya - Cairo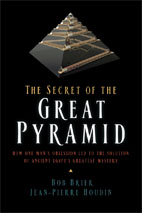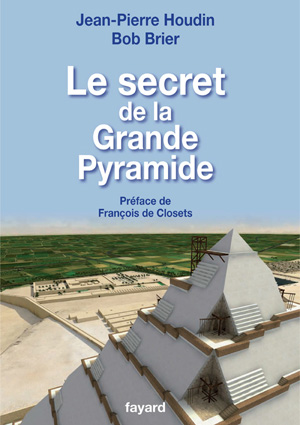 The Secret of the Great Pyramid La Secret de la Grande Pyramide
Publisher: Smithsonian - HarperCollins New York Publisher: Fayard - Paris
AMAZON LINK Paperback - Fall of 2009
DVDs are available documenting Jean-Pierre's research: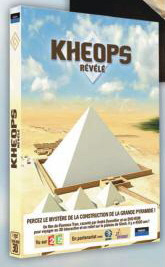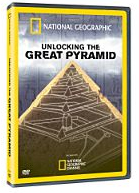 DVD: KHEOPS REVELE DVD: UNLOCKING THE GREAT PYRAMID
Producer: Gedeon Programmes - Paris Producer NatGeo Channel - Washington
(Europe only) (USA only)
A DVD is on sale with, as a bonus, a DVD-R 3D animations with glasses (Europe only).
NHK - Japanese Television aired their own primetime documentary on Jean-Pierre Houdin.
ASSOCIATED READING & VIDEO MATERIAL LINKS
Dassault Systemes : KHUFU REVEALED Info on Jean-Pierre's Theory:
Association of Construire-la-Grande Pyramide - French Colleagues Corporate Support:
Archaeology Magazine: Update: Return to the Great Pyramid by Bob Brier: Note: "Bob Brier is a senior research fellow at the C.W. Post Campus of Long Island University and a contributing editor at Archaeology. He is coauthor with Jean-Pierre Houdin of 'Secret of the Great Pyramid'."
National Geographic News Update - A short paper:
The British BBC2 Timewatch DOCUMENTARY version on YouTube HERE: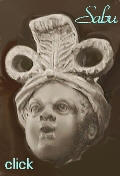 <![if !vml]>

<![endif]>

CIRCULAR TIMES ALTERNATIVE MAGAZINE
An International Networking Educational Institute
Intellectual, Scientific and Philosophical Studies
Copyright © 1995-2007