"Château du Mont" This monumental home was designed by a World Class Designer and California General Contractor - Colette Dowell, whose artistry is seen in many eclectic homes of acclaimed individuals such as Frank Zappa, Richard Dreyfuss, Doc Severinsen, amongst many more. Her artistic imagery has won international acclaim and awards for outstanding restoration and unique presentation. This masterfully laid out fine timber structure is a magnificently stylized "Southwestern Gothic" European Château in the hills of Western North Carolina. Colette Dowell is available for Design and Consultation for your home or building.
FOR SALE BY OWNER - OWNER FINANCING
Price and terms negotiable. CONTACT EMAIL
Fine Timber
Old World European Style Estate
This lovely home sits with enchanting trees and pastures; a barn, riding rink, tractor carport and shed, 10 thousand watt generator, deep well, wood burning furnace, 3 chimney flues, 1260 square foot glass solarium with chimney and retractable roof. Terraced landscape with very large dropped and standing stones, herbal and flower gardens, plenty of garden space for all of your needs and just a wonderful lay of the land. The rolling pastures and woods of the estate are breathtaking such as the beautiful land and hills in the all time classic, "The Sound of Music."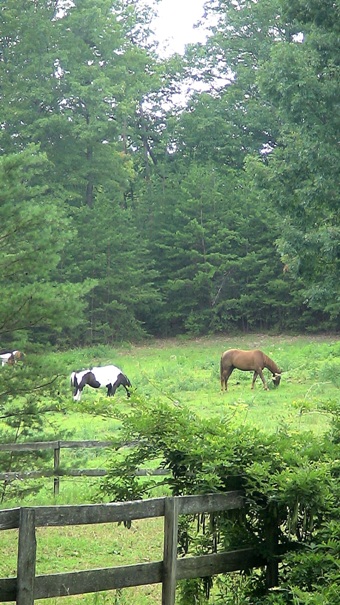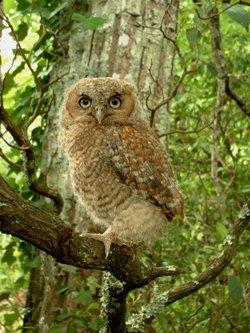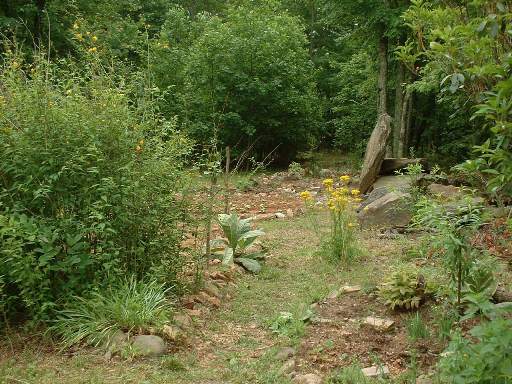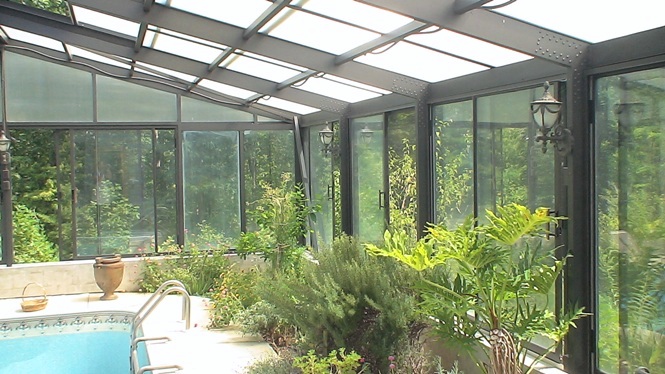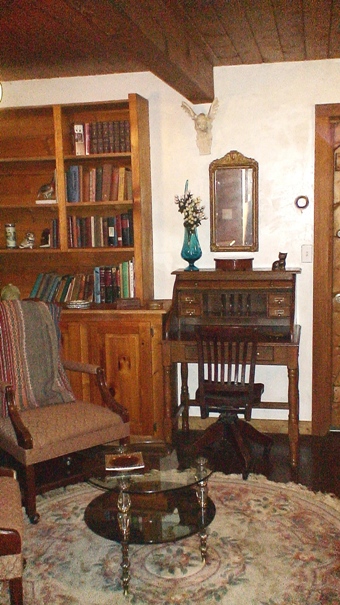 Hand crafted custom oak library cabinets with built-in shelves. Walk-in closet in the Master Suite along with huge dormer closets in the upper bedrooms. Separate Laundry Room with linen closets and ironing cabinet. Beautiful custom oak Kitchen cupboards and lower cabinets with handcrafted large oak central island. Large walk-in pantry with built in shelves.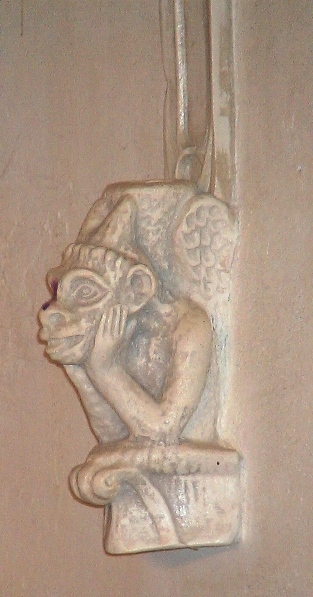 This estate is nestled in the foothills of Western North Carolina.
A historic home for sale. A "Castle in the Hills."
Colette Dowell is available for Design and Consultation for your home or building.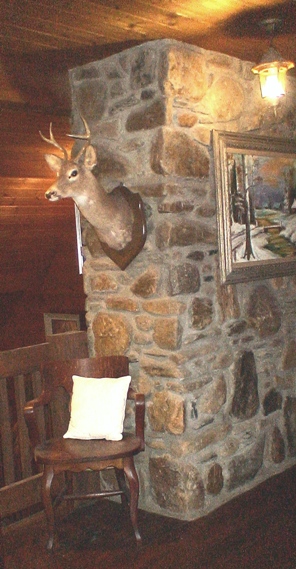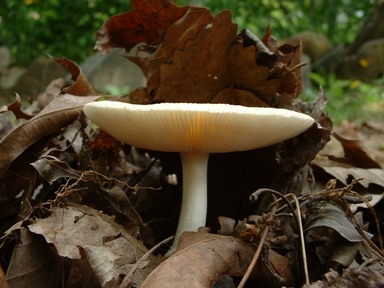 The estate of Château du Mont is unlike anything you have seen in the Western North Carolina area because of its grandeur and lovely unique setting. It was inspired from the architecture of world travels and lifetime of design work in many world class homes. Château du Mont is a place of wonder, where many beautiful moments have been shared. The grounds are suitable for an organic herb farm, a museum estate where weddings or travelers come to share the beauty; an equestrian estate where horses run free; a working farm; it is just perfect to transform it into anything you really want it to be. In addition, the acreage is perfect - large, but not too large, with cleared pastureland and forests that abound with much wildlife; exotic and wild rare botanical species.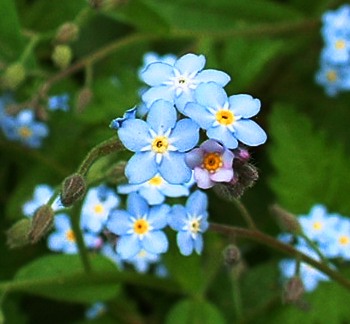 For Sale by Owner - Owner Financing Available
Price and terms negotiable.
CONTACT EMAIL
Le Critique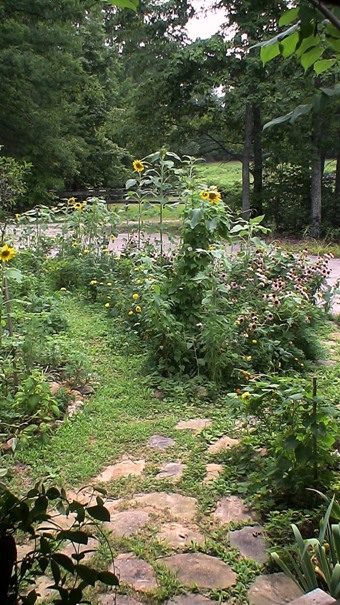 I have beautiful land in North Carolina. I have a small castle. I acquired it because of its water (springheads and low-lying creeks), pastures, wooded and useable/buildable landscape. I have never seen land that lay so nicely and was so diverse in nature. I knew this land was special and thanked God for being able to be "Care Taker" of such beauty. There are many areas that are wonderful to build another home or recreation quarters. The land is large enough to sub divide and do as you please. There is an abundance of wild life and botanical species from all different kinds of trees, plants, herbs, wildflowers and mushrooms. I have also created areas for herbs and various flowers to grow thus attracting migrating birds of all kinds, beautiful butterflies and humming birds. I have harvested the seeds and collected them for years. I brought in large stones like those of the ancient standing stones and ley lines in England, and terraced with them creating garden beds and labyrinths.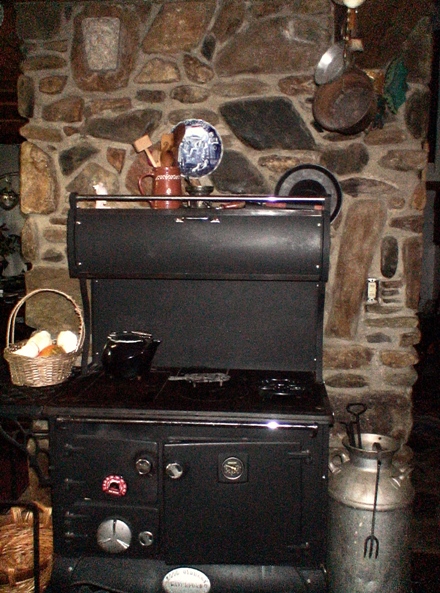 The grounds are surrounded with pure nature and all her animals, deer, foxes, coons, hawks, owls, tree frogs, toads, box turtles, and many other wonders of Nature's gifts. The air is clean here and there is a deep well that has strong perk and gushes clean water. My home is like a Mountain Chateau with wonders; unique interior architectural artistry as well as being self sufficient in times of emergency survival. I have a wood furnace that sits in the basement that attaches to the home ducts and an Irish wood cook stove and oven in the kitchen. There is a 10,000-watt Dayton propane generator hooked up to a one thousand gallon tank used for electricity if power should go out (however I have never had to use it yet). There is a water softener if you want to use it; there is choice between propane hook up or electric "water-on-demand" tank less water heater for the entire house (not under the sink version). A 1260 square foot glass solarium with a retractable roof that encloses a 32'x16' 8 foot deep swimming pool with custom hydrotherapy jets and handrail to assist and an area next to the pool where plants and flowers can grow year round attaches to the main home via the Master Bedroom. If you choose, you may fill the pool in with soil and have a large green house producing food year round. There is a chimney open for a wood stove that can hook up to heat both the water and room in the winter as well as a drain with access to place a shower and sink to wash up before and after your therapy, or if you just want to take an outside shower.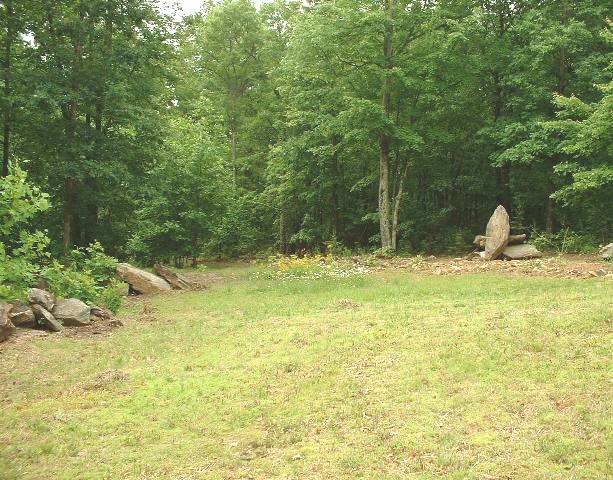 The utilities for the pool sit outside of the solarium and underneath the concrete level there is a block room where the clean out for the chimney is located with electrical and plumbing access. This cellar room can be used to house garden tools as well as a root cellar.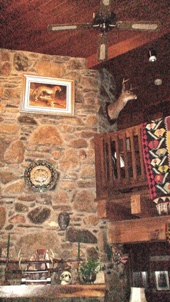 The home displays 12 inch beams and a 22 foot high cathedral ceiling in the living room with the central focal point being that of a 22 foot high 8 by 8 foot naturally polished creek stone chimney. The chimney is magnificent and has hand inlaid statuary figures of antiquity. A traditional Irish cast iron wood cook stove and oven shares this chimney as it sprawls through out the kitchen area conveniently fixed next to an island that houses a propane gas range. The kitchen is very large and open with custom medium oak hand built cabinets entering a large walk in pantry with built in shelves designed for canning and food storage. The wood beams and ceiling showcase a higher shelf where curios can be displayed and cutlery may hang for use or exhibit. For maximizing and utilizing the space in the kitchen, I created a very comfortable atmosphere to chat while preparing cuisine. The kitchen is oriented as such on the North side of the chimney so guests in the living room as well as the dining room are not disconnected from the "Chef" so the joy of interactions and creating meals in the kitchen together may be shared.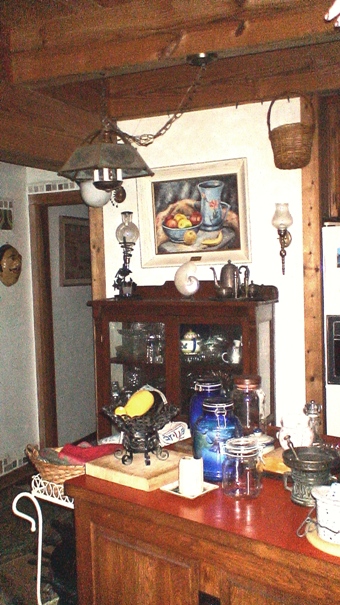 The kitchen is open to the hall that originates from the carport that leads directly into the laundry room with a closet, wall hung ironing board and hand crafted oak cabinetry. Inlaid hand painted collectable tile and soft plastering accents this entrance room making it functional and easy to maintain. A den size outside corner timber and plastered room with 2 windows and one closet adjoins the kitchen next to a full bath for guests. The lovely dining room adjoins the kitchen with built in custom-built curios, drawers and cabinets. All interior doors are custom hand built. Large windows look out to the outside deck that overlooks the backyard and pastures upon leading down to the garage level access. Situated across the living room and dining room onto the South side of the house the master bedroom adjoins the master bath with private hall and double walk in closet. The Master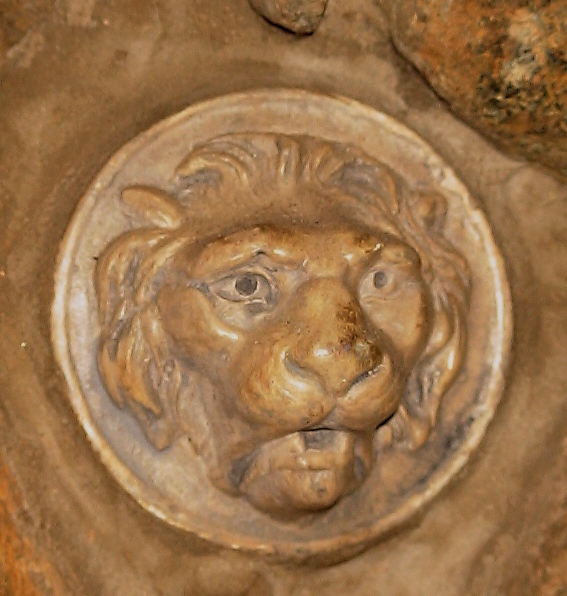 Bedroom has timber with neutral colored textured fiber papered walls and is 22 x 16 feet respectively. An arched entry private hall leads entrance by means of a leaded glass door to the 1260 square foot Glass Solarium Room (hydrotherapy) and outside garden areas overlooking the main sloping terrace and large standing stones. The view is from this perspective is like no other. During the winter, you may draw heat from the Solarium (passive solar) and give warmth to the Master Bedroom and bath leading on into the living areas as directed by drafting through open doors.
From the living room and main entrance to the home by means of the covered front porch, the open oak staircase climbs to the third level of the home supported by the stone fireplace and surrounded by hardwood floors.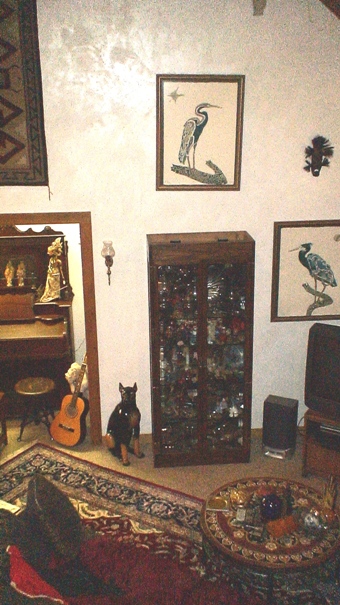 The height of the cathedral ceilings truly gives a dimensional perspective while the plaster and statuary inlays give light to the hand built-in library shelves and cabinets creating your Chateau (very castle like). The stone fireplace chimney's creates a virtual stone wall that is the cornerstone of the third floor with its diverse features for variable usage. An open hall connects one full bath, a loft library and two very large bedrooms. The Northern bedroom is very spacious at 17 x 20, while the Southern room (overlooking the Solarium) is secondary in size at 151/2 x 20. Both third level rooms are hand plastered with sifted white sand and have skylights, windows, 2 large lit dormer closets each as well as 2 lit side mount wall closets. Private and distinct views of the open cathedral ceiling and open floor plan are captured from each bedroom's entrance.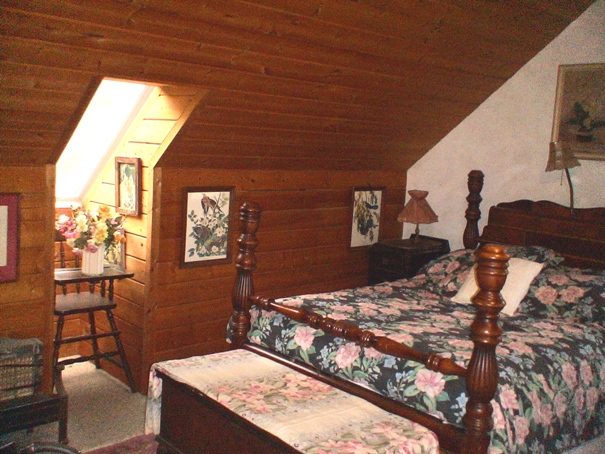 From the main level (ground level 2nd floor) exiting the living room their leads another oak staircase to the basement level that directs you into a large open room that has white plastered walls and adobe corners; hand crafted authentic Mexican terracotta 12 inch octagonal floor tiles with hand sealed grout. The ceiling is flat finished drywall with wood trim and matching wood molding - keeping the continuity of the wood features through out the entire home. This spacious room has three doorways; one leading into a private hall containing two entrances –one to a full bath and one to a large bedroom. The white plaster and terracotta tile expand through to the bathroom. The bathroom was not plastered so it could be fully tiled as desired. The Flooring was left neutral in base so matching tile or patterns could be laid to taste. The bedroom has an adobe window with wood trim and base shelf. The ceiling is dry walled. There are interior wall lights mounted with decorative silver pewter Sun Masks. The closet has hand built shelving along with cedar backing on one side for hanging clothes. The other two entrances that lead from the main room lead way to the garage work space room. This garage houses the propane furnace, the wood furnace, the hot water heaters (both electric and propane), a soft water filter, a large utility sink, the manual pulley for the Dayton 10, 000 – watt generator, the electrical breaker system, the well pump bladder and filter, and a 10 foot work bench with and major side shelving for extra storage. There is a lined cedar stairwell closet for extra storage. The floor is concrete and there is a large garage door that rises upwards on the Eastern wall, next to an exit door, and one window with a shelf. Leading outside the door exit you come upon the staircase that rises to the upstairs deck and landing that attaches to the Dining Room on the Main Level.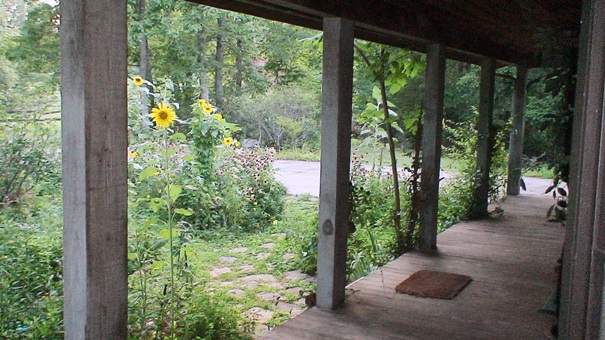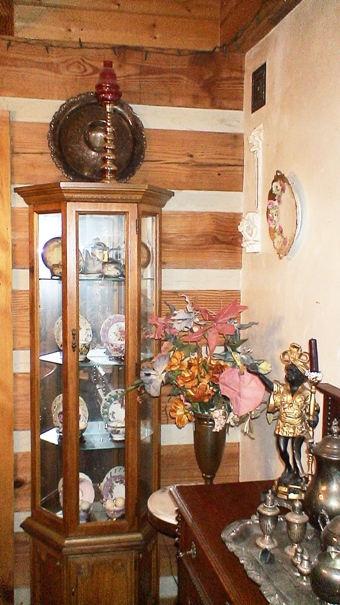 Upon arriving up the long double wide concrete drive, you see the front covered porch and main entrance to the house. This driveway leads you into the double car stone walled carport. There is an extremely large area standing wood deck that overlooks the back yard of the home. Directly below this deck is a concrete Motor Home parking facility and a separate concrete driveway leading to the backside of the basement level garage. There is a service road leading from the main front driveway around the Southern side of the home to access the lower level and parking. The generator sits on a separate concrete pad some 30 – 40 feet from the house, next to the propane tank hook up. As of now, there is a 1000-gallon tank set. This tank services the propane gas amenities of the home, the pool water heater and the generator.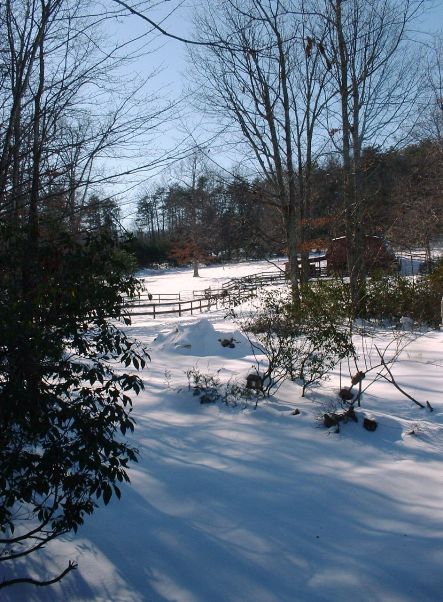 From the main entrance door to the house and the front yard, you can view the riding ring, coral and barn. The barn is huge with three horse stalls, a tack room, water, a hay area, and upper hayloft with a drop door. The barn is built of wood and has a metal roof. There is a separate electric service meter and a water faucet. There is a tool shed with ports to park tractors and heavy equipment. The upper pasture rises from the barn with a back gate that enters the wooded area. The upper pasture slopes mildly downward and is separated from the lower pastures by mea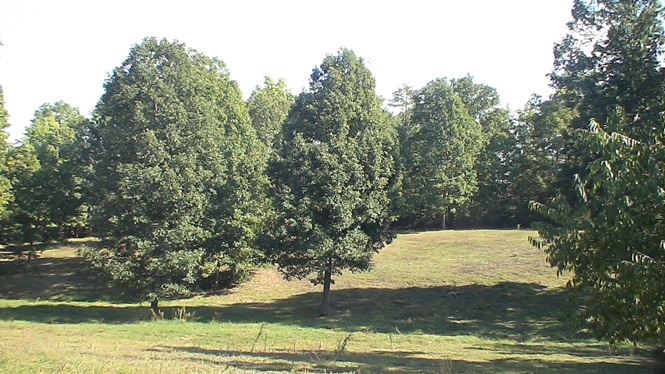 ns of another gate. The view from the upper pasture is breathtaking of distant mountains and far away lights of small towns and home sites, but the property is private. The lay of the land is truly beautiful and reminds one of the Musical, the Sound of Music; "The hills are alive - with the sound of music………," filmed in Austria. Below the bottom pasture is a level area with a mound and to the left, Southern side is access by gate to the South side of the property. This region has the mountain creeks and springheads. There are wonderful home sites available here as well.

On the Northern side of the property, there is an old road that leads way to the bottom pastures. This road has an abundance of black berries on it, and beautiful views of the woods and bottom creek marshland with its unusual botanical species. Big Oaks, Maples, Poplars, Pines; trees of all variety are nestled in the entire wooded settings. Ginseng, Goldenseal, many wild herbs are growing in their natural settings….The land is ripe for planting more Ginseng and herbs for regular annual harvests.

I purchased the estate in 1996 and renovated for one and one half years before I actually lived here full time.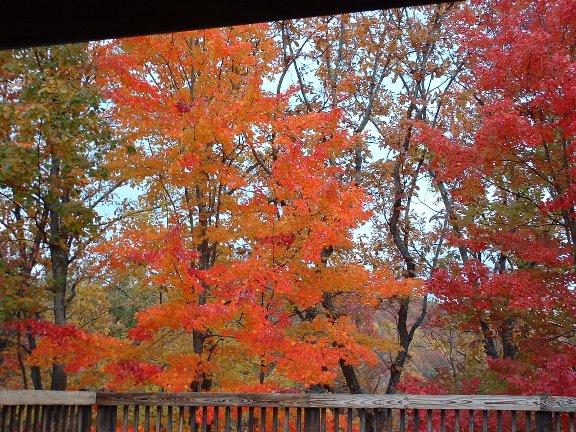 I have continued to remodel and design through out the years. Since 2003 however, I have been disabled, lacking the ability to continue all I wanted to create and build. The home is ready for you to make it yours now with the finer cosmetics of the home or if you would like to build on any additions. If you would like to have me consult with you as the designer to help with some ideas, I will be available for you. There is so much this home has to offer and it will always be a work of art in progress. Due to the unique design, artistry and strength of the structure, I foresee this home being a historical property due to its architectural and landscaping design. This is definitely a home to keep in the family and pass on generation to generation. It is truly a picturesque estate - it is not replaceable. Those who have visited me here have fallen in love with Château du Mont and their memories are forever embedded in their hearts. I wish for this estate to be handed to those who will continue to cherish it and build on it. I will work with you on the financing. I am offering the home, the barn, the outbuildings, pasture lands and immediately surrounding land encompassing the home front and private drive (what ever that acreage is -it needs to be surveyed but I am thinking it is +/- 25 acres) for a separate price . The entire land parcel is 64 acres. If you would like the entire parcel of land adjoining the estate which is extraordinary and fairy like (this area has a lot of springs and creeks) I am willing to negotiate so the entire parcel is kept in whole and you will have water, land and security for your entire family for generations to come. The parcel has many private home sites and can be divided.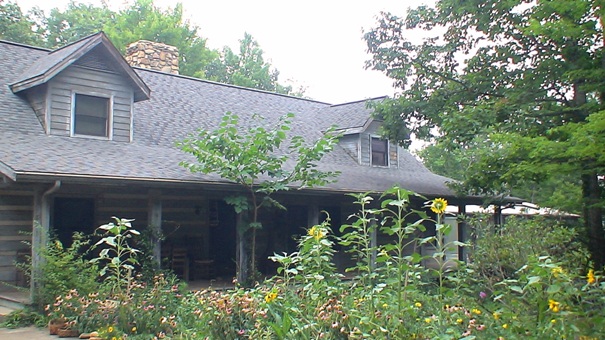 Every person who visits this estate is overwhelmed by how beautiful the land is and how it lays. When I first saw it, I knew I would never find another property like it – I offered the asking price that evening and immediately started my purchase to lock in my find. I was absolutely overjoyed as I had searched for years viewing hundreds of properties, none of which offered all of the diversities, possibilities and wonder this parcel has. I have been in the land/building and design industry for over 35 years. All properties I have restored or renovated have been very worthy, unique and special. I am fortunate to have lived in this home and be "Care Taker"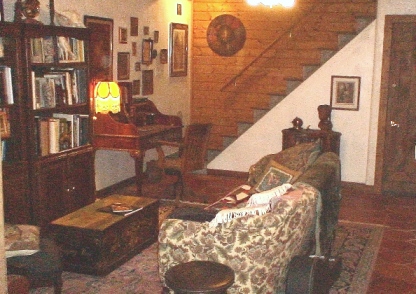 of this wonderful land and develop it for 17 years now. However, I realize that I am in the phase of my life now that I must move on. Like all homes and land, this home is like a child and it needs to be taken care of if it is to survive; it must be passed on new responsible parent/s. History shows us that people thrive on viewing artistic, beautiful architecturally designed structures. We still have buildings and estates of antiquity and grandeur still standing for us to admire because private persons or organizations/foundations knew the value of preservation and protected, maintained and cared for them for future generations to enjoy.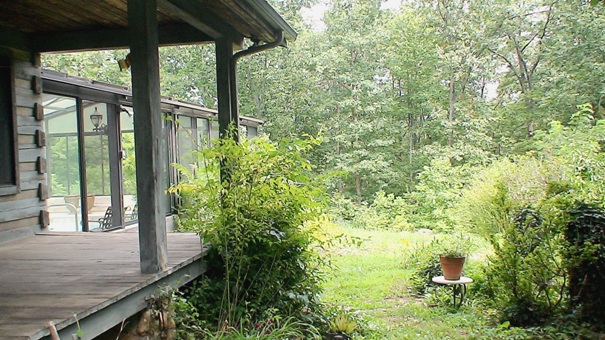 This estate and home is one that you will take from me and continue to design upon and maintain. I have block, tile, wood, tools and such that will go with the home. I can also leave some of the furniture if you like it. All of this can be discussed. If you need me as a designer consult, as I said, I will help you. I know this home very well and I have many ideas that are awesome. For now, you would have a beautiful home to get you started just as I did to create it thus far.....
About 3400 square feet with about 900 sq ft garage with wood furnace and 1260 sq ft solarium with chimney and cellar. And a 21 x 25 oversized double car covered carport. For Sale by Owner and Owner Financing-------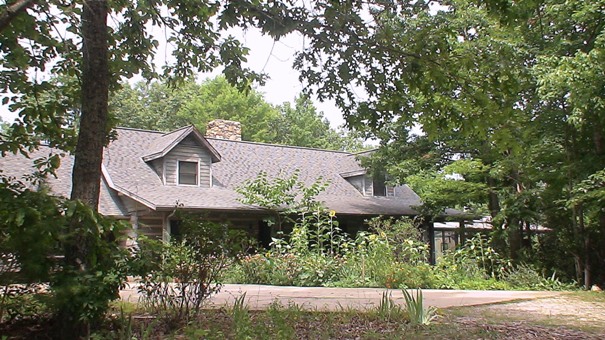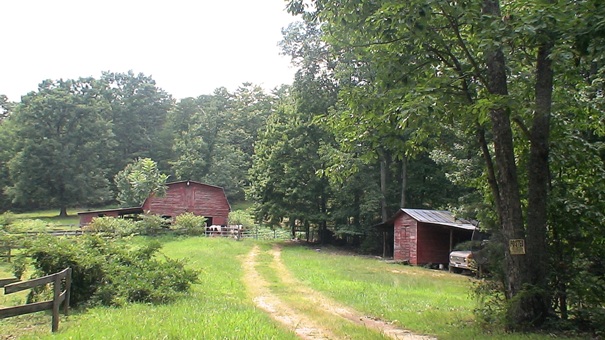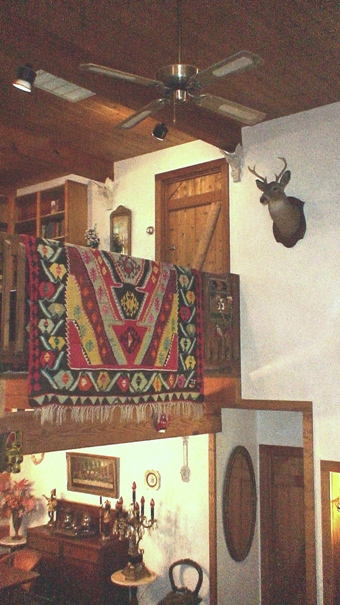 5 bedrooms, 4 baths - Serene and beautiful - a get away in your dreams, an incredible estate that took years of loving artisan design and hand work. Rolling pastures with springs and creeks, abundant wild herbs and flower gardens, solarium, monumental cathedral stone fireplace and Irish wood cook stove. Old world style, European soft trowel plaster; hand finished terracotta octagonal tile; decorative inlays; high wood beams and unique handcrafted doors. Stone laid double carport, 60 foot covered front porch and huge sun decks surround. Approximately 3400 sq. ft. +/- Large basement garage.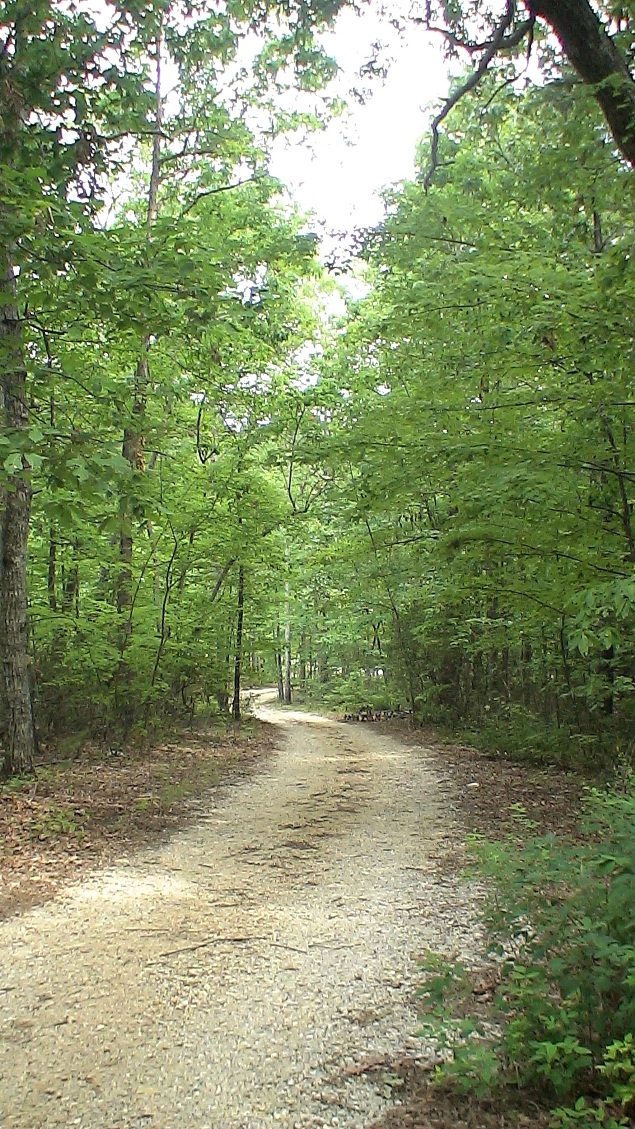 Château du Mont is a place of wonder, where many beautiful moments have been shared. The forests abound with much wildlife, wild and rare botanical species. This estate is named Château du Mont because of its grandeur and lovely unique setting; it is unlike anything you have seen in the Western North Carolina. This monumental home was designed by a World Class Designer and General Contractor - Colette Dowell, whose artistry is seen in many eclectic homes of acclaimed individuals such as Frank Zappa, Richard Dreyfuss, Doc Severinsen, amongst many more.
Colette Dowell is available for Design and Consultation for your home or building.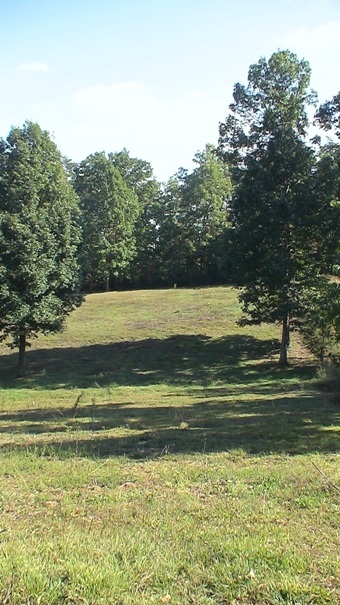 YOUR HOME IS YOUR CASTLE!
For Sale by Owner - Owner Financing Available

Price and terms negotiable.
CONTACT EMAIL
Link to the 2012 AWARD WINNING City of Hickory Restoration/renovation beautification AWARD for the John Eckard House Historical Victorian Home located near the Historical District of Kenworth, Hickory, North Carolina.

CIRCULAR TIMES
An International Networking Educational Institute
Intellectual, Scientific and Philosophical Studies
Copyright © 1995 - 2013
Dr. Colette M. Dowell, N.D.
Website Design for the previous Official Website of Dr. Robert M. Schoch and Circular Times
and all contents including but not limited to text layout, graphics, any and all images,
including videos are Copyright © of Dr. Colette M. Dowell, 1995-2007, 2013